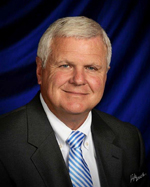 David P. O'Mary is the 18th Mayor of the City of Jasper. He has been in office since November of 2016, after running unopposed in 2020. In keeping with his promise to run an open administration, Mayor O'Mary answers your questions and dispels rumors on his weekly video series, Mayor's Weekly. 
Message from Our Mayor
On behalf of the Jasper City Council and more than 200 city employees, I would like to welcome you to our website. Jasper is located on I-22, the Memphis to Birmingham Highway, surrounded by natural beauty, such as Smith Lake, and fabulous schools and lifestyle opportunities. Our downtown is bustling with award-winning restaurants, two local breweries, and year-round activities, such as the Foothills Festival, Jasper Eats, and many others. Whether you are visiting for the day, the week, or plan to stay a while, we look forward to seeing you in Jasper soon.
Mayor's Bio
Jasper Mayor David O'Mary was born in Jasper and lived in the Eldridge community until moving as a young boy to Winfield after the passing of his father. After graduating Winfield High School, David attended and graduated from the University of Alabama with a degree in corporate finance, and from LSU's Graduate School of Banking of the South. Afterward, he returned to Walker County where he served an 8-year stint in Company A 877th Heavy Combat Engineering Battalion of the Alabama National Guard and began an illustrious career in banking with First National Bank of Jasper (now Synovus Bank) that spanned some 39 years and saw him serve nearly a decade as Senior Executive Vice President, until his retirement.  
Mayor O'Mary understands that education is one of the key foundational blocks of a community and served 15 years as a member of the Jasper City Board of Education, 9 of those years as Chairman. As Mayor, he has worked to strengthen the relationship between the city board of education, school administrators, and the city.
The need for continual development of employment opportunities is a cornerstone of municipal growth and prosperity and Mayor O'Mary understands this as well. Prior to being elected, he served for 8 years on the Jasper Industrial Development Board, with 6 of those as Chairman. During his tenure, he was instrumental in recruiting companies such as HTNA to our area and was the driving force behind developing the 50-acre expansion to the industrial park where Yorozu is now operating. As Mayor, David led the charge to add an Executive Director to the Jasper Industrial Development Board as a full-time employee and continues to work to add funding from the city budget to expand opportunities for development.
David has served the community in many other areas, as a board member, chairman, or simply a tireless volunteer. Organizations such as the American Red Cross, United Way of Central Alabama, and Beacon House have all been passionate endeavors of community service over the years. In his time as mayor, he has overseen the largest paving and infrastructure project in the city's history, worked to improve employment wages 5 times for city employees, led the spending and efficiency reforms that have culminated in the largest budget surplus in decades, and maintained transparent, open communication with all citizens. David believes in hard work and preparation for whatever may come and understands compassion is often all someone needs to get them through the day. Sharing and serving those in need are priorities as Mayor, and they have become priorities for the city of Jasper.