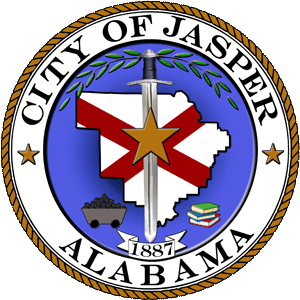 In May, 2011, the Jasper City Council conducted a contest open to Jasper school students to design a new Great Seal and official slogan for the City of Jasper. A citizen's committee selected five slogans and seven seal designs and submitted them to be considered by a final committee. The final committee, including Mayor V. L. "Sonny" Posey, Councilmember Sandi Sudduth, City Clerk Kathy Chambless and Laura Frazier, chose the winning seal and slogan and made the final design recommendation. The final design was adopted unanimously by the City Council on July 12, 2011.
Samuel Wells, a Walker High School freshman, submitted the winning design and the winning slogan. Wells is the son of former District Judge Jim Wells and his wife Lisa.
The seal features a sword with a star in the center of its blade. Behind the sword is Walker County with representation of the Alabama Flag inside the county's borders. Wells said the star, locating Jasper in relation to the county map, represents Jasper as the pinnacle of Walker County and the sword shows Jasper as the center of courage, vigilance and justice that all cities in America should follow. A pair of olive branches are also present to represent Jasper as a peaceful and tranquil community. Wells' slogan was: "Experience from the Past, Knowledge for the Future."
The rules allowed the city to make minor changes to the design, which resulted in a few simple alterations to the final design shown here.
The original design by Wells also included the state flower and state bird, but the city's design committee decided to replace them with a mine car loaded with coal, and a stack of books.  The mine car to represent Jasper's first century growth due to our area's rich abundance of coal when the industrialization of our country depended on the natural resource.  This  industry's "Experience from the Past" produced a community of people with a solid and strong work ethic. The stack of books represents "Knowledge for the Future", as Jasper and Walker County's educational system is second to none with two outstanding public school systems, several Christian schools and two campuses of Bevill State Community College.