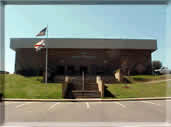 Lee Swann Gym is centrally located in Memorial Park and is named for City Council Member Lee Swann, the long-time former councilmember, who was instrumental in its construction. Lee Swann Gym contains a combination basketball and volleyball court with an indoor walking track. 
Gym hours are:
Monday, Tuesday, Thursday, Friday - 8:00 am – 7:00 pm
Wednesday – 8:00 am – 5:00 pm
Weekends – vary, please call 205-385-7979 for the current schedule.