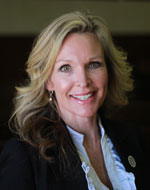 Councilwoman Jennifer Williams Smith is a Jasper native, a graduate of Walker High School, and attended Auburn University receiving her bachelor's degree in Communications. Jennifer was elected to the Jasper City Council in 2012 and is now serving her third term. 

Jennifer is the owner and marketing consultant for Just Face It Alabama and teaches dreamFIT, an adaptive dance program, in Walker County Schools. She and her late husband Lee Smith, have two children, Sawyer and Brylee. 

In addition to serving the community as a city councilmember, she serves on multiple advisory boards throughout the state of Alabama. She is a 2006 graduate of Leadership Walker County and graduated in 2014 from Your Town Alabama. 
Smith is the current Vice-Chair for the Alabama League of Municipalities' (ALM) Finance, Administration, and Intergovernmental Relations standing committee and represents State Senatorial District 5 on the ALM Committee on State and Federal Legislation. She served as a past Chair of the ALM Human Development policy committee. In 2018, she earned the professional designation of Advanced Certified Municipal Official. Jennifer is also active with Women in Municipal Government (WIMG), a constituency group of the National League of Cities. 
 
Contact Info
Jennifer W. Smith
Councilmember
District Four