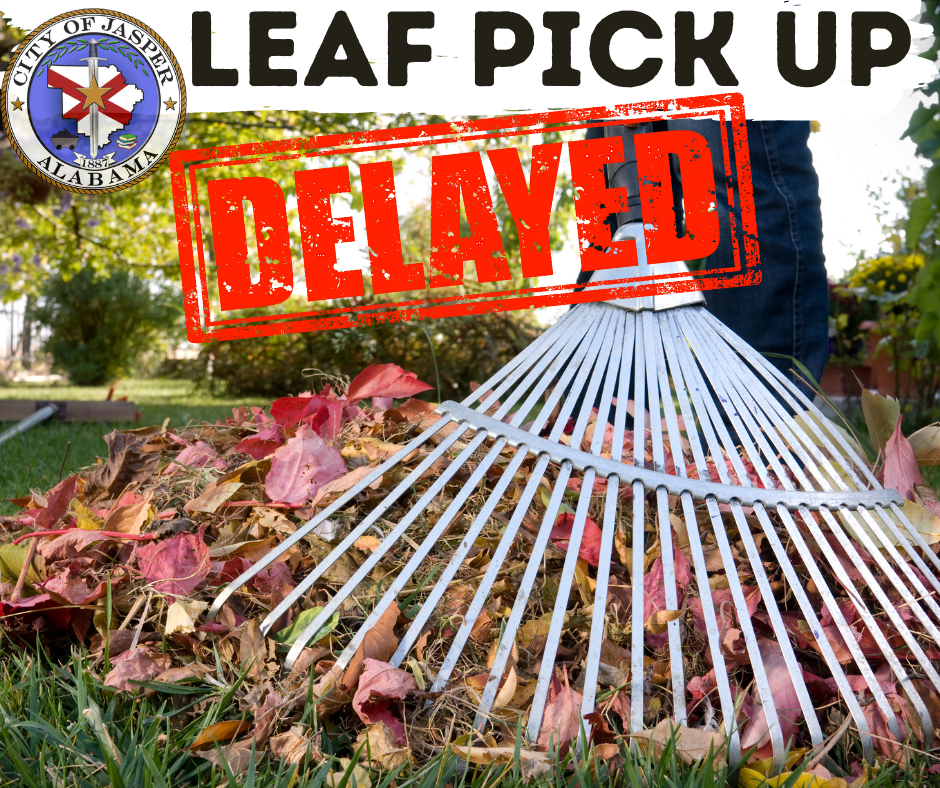 November 20, 2023 - The Jasper Street Department and the Public Works offices have taken several calls in recent days regarding leaf pickup. Leaf pickup is an additional service that the Jasper Street Department provides for garbage customers inside Jasper city limits during this time of year. It is not a daily or scheduled service that is route-related, as is garbage. Currently, we are experiencing slow turnaround times due to several issues outside of our control. While the Street Department does attempt to make weekly rounds and collection on consistent days, it is not always the case, and volume, worker availability, and equipment issues play a major role in the frequency of the service being provided.
Recently, we have experienced off time from drivers who are certified to operate the equipment, operational issues with the equipment, and backlog due to these issues and first-of-season high volume. Please keep in mind that when the truck becomes full, we have two areas in the city where we are dumping the leaves, and it may take as long as 45 minutes to make round trips. So, if you have experienced your road not being completed in a single day, it is likely that the truck became full and had to be dumped. 𝘽𝙖𝙜𝙜𝙞𝙣𝙜 𝙡𝙚𝙖𝙫𝙚𝙨 𝙖𝙣𝙙 𝙩𝙖𝙠𝙞𝙣𝙜 𝙩𝙝𝙚𝙢 𝙩𝙤 𝙩𝙝𝙚 𝙨𝙩𝙧𝙚𝙚𝙩 𝙬𝙞𝙡𝙡 𝙖𝙨𝙨𝙞𝙨𝙩 𝙞𝙣 𝙦𝙪𝙞𝙘𝙠𝙚𝙧 𝙥𝙞𝙘𝙠𝙪𝙥, 𝙖𝙨 𝙗𝙖𝙜𝙜𝙚𝙙 𝙡𝙚𝙖𝙫𝙚𝙨 𝙘𝙖𝙣 𝙗𝙚 𝙘𝙤𝙡𝙡𝙚𝙘𝙩𝙚𝙙 𝙗𝙮 𝙩𝙝𝙚 𝙗𝙧𝙪𝙨𝙝 𝙩𝙧𝙪𝙘𝙠.
Our city leaf trucks will continue to operate as efficiently as possible but are not able to pick up weekly or operate on a set schedule at this time. We will, however, get caught up as quickly as possible. It is recommended that you call the Public Works Department to notify them of the need for leaf pickup at 205-221-8529. Thank you for your patience, and please bear with us!