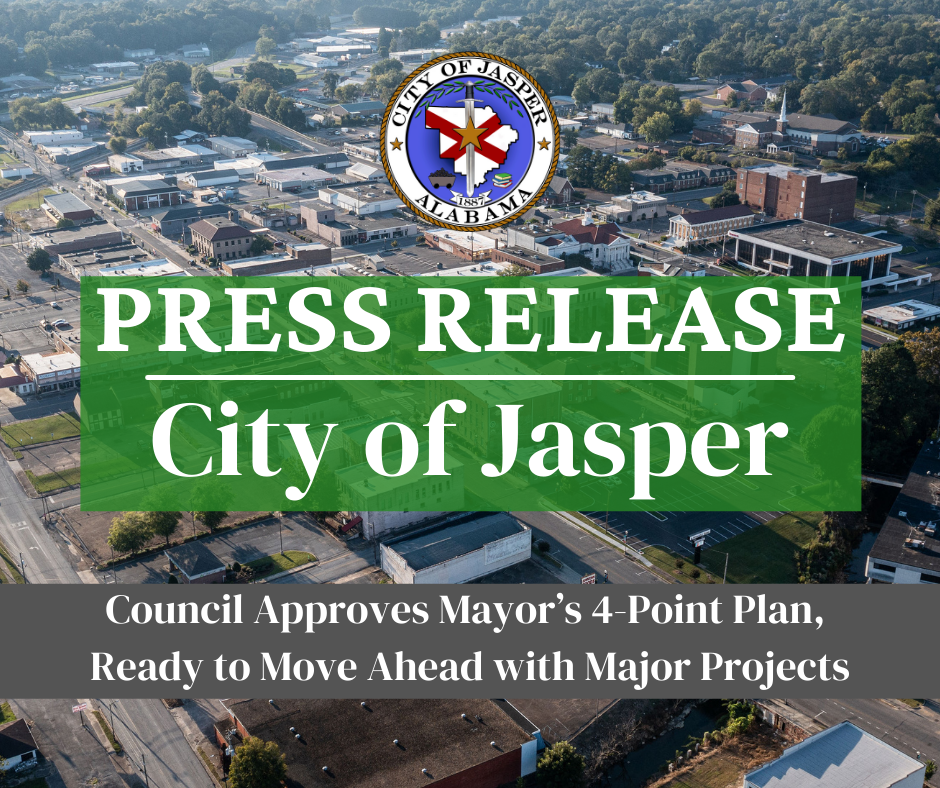 Office of the Mayor
City of Jasper, AL
205-221-2100
FOR IMMEDIATE RELEASE 
Council Approves Mayor's 4-Point Plan, Ready to Move Ahead with Major Projects.
Jasper, Ala– An impressive 4-point plan for future investment into the City of Jasper passed Tuesday during the City Council meeting. Mayor David O'Mary expressed his enthusiasm for what this can mean to the future of the city. "What we have done here today probably can't be measured yet. It will be something that will facilitate further expansion and growth of our city." The 4-point plan is something the mayor has been working on for several months, and the council has had a while to review and ask questions. One of the reasons for why now, is the favorable financial position the city is in today versus the unknowns of a later date. "We have a top-tier bond rating and there exists a high appetite for municipal bonds. We can issue bonds and due to our strong financial position, we should realize a significant premium. I am so pleased that this plan has legs and will get underway," said Mayor O'Mary. "Kudos to our council for realizing the significance and being willing to move forward with this project."
Following a 5-0 unanimous vote, the stage is now set for work to begin on each phase. While details for each project have yet to develop at this early stage, below are the high points of what was discussed at the public meeting:
1. Development and construction of a sports complex – the development would be planned for property located in the Industrial Blvd - Walker County Lake area. This complex would be city developed, owned, maintained, and operated. " I have spent a lot of my life working in the Parks and Rec field working with tournaments and traveling teams, and this can be a major tourism boost for Jasper if done correctly," said District 5 Councilmember Willie Moore, III. "I am very interested in seeing what ideas the consultant brings to us and once we get the right one for Jasper, we will have the funding to get it built. It's also very important that our youth be able to use the facility during the week. The mayor and I have discussed this, and I know that is his plan as well. This will be a really nice addition to our city." The vision and scope for the project would include state-of-the-art facilities that would be determined by an independent consultant based on what best fits the area. Preliminary plans have been discussed, but further research will take place regarding the viability and economic impact as well as architectural design and usage plans. This investment is expected to be in the $10-12 million range.
2. New City Hall – A new city hall at the existing Sherer Auditorium downtown will soon be moving from discussion to planning. The idea is to develop administrative offices in the historic building. Plans will include returning the building's façade to its original WPA state and possibly using basement space for rental and other opportunities. All this will be in line with the Jasper Main Street Town Creek development project that is already underway. Retaining an architectural firm will be the next step in this $5 million project. District 4 Councilmember Jennifer W. Smith stated, "Sherer Auditorium is an integral part of the rich history of Jasper. For generations, the building has been a part of the shared memories of our community. I am excited about the possibilities of breathing new life into this historical structure by creating a municipal facility that is accessible to all and available to current and future citizens!"
3. Council President and District 3 Councilmember Gary Cowen spoke about the plan, including $5 million for paving and infrastructure in the city that will begin soon. "This is a major investment in the infrastructure of our city that will not only last many years, and benefit our citizens, but it will also have a big impact when retailers, industry, and other suitors begin to visit and look at locating in our city. And having an engineering firm look at it independently takes most of the guesswork and discussion out of the equation. As councilmembers, we can simply discuss the prioritized list and move forward with our projects." A professional engineering firm will be hired to look at areas of need and prioritize them based on the level of degradation, traffic flow, and other criteria. Once this step is completed, paving work will begin.
 4. Finally, the plan sets aside $2 million earmarked for use in industrial and economic recruitment. These funds can be used through the Jasper Industrial Development Board (JIDB) with council approval for site improvement, construction, and other tangible needs based on industrial development. "Making this type of funding available to the Jasper Industrial Development Board, for economic and industrial development is substantial and key to our commitment to pursuing jobs for Jasper," said District 1 Councilmember Jenny Brown Short, the newest member of the council. "This would set aside up to $2,000,000 in funding that could be used for JIDB projects such as land acquisition or property improvement as needed. For the JIDB to access these funds, they would make a request to the council based on individual projects. The council would allocate or deny funds. This funding feasibly puts us in the game and at the front of the line when we are looking at recruiting big prospects." 
"Jasper is no longer on the cusp of growth - it's growing - and we are working to stay in front of that growth, so it doesn't pass us by," said District 2 Councilmember Danny Gambrell. "The mayor has a lot of knowledge when it comes to finance and investments, and his plan is solid. I am looking forward to the next steps where consultants and experts bring us their visions and these projects begin to take shape. This is just the first step in a very long process, but it's Jasper moving forward."
FOR MORE INFORMATION CONTACT:
Brent McCarver
brentm@jaspercity.com
205-385-7990